Nik Habermel;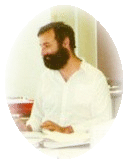 a friend, college, mentor and an inspiration to many of us
died late on Monday October 1st, 2001, from an accident
involving cutting trees on his property.
For those of you who do know Nik, you'll probably take comfort in
the fact that he died doing something he loved with all his heart -
&nbsp &nbsp &nbsp working on his land...
I am in the process of collecting as much of Nik's work as I can.
If you have any of his poems, stories or songs (or pics!), please email them to me,
so I can add them into this archive.
Here's what I've got so far of:
Nik's poetry.
and
Nik's Short Stories.
Please check back often as more will be added, as I find more!.